Crumb and Sponge
Regular price
Sale price
$12.00
Unit price
per
Sale
Sold out
Flour, water, sea salt - we believe simple is best!  Artisan Sourdough contains unbromated flour, water, sea salt and our Rainbow loaf contains natural colorants (like turmeric & matcha) to create a beautiful and unique loaf of bread.  Comes in an approximately 1lb loaf.  Only available 2x a year!
Share
View full details
The Classic Bread That Started It All
Highlights

When the bread maker bakes for her family, this is the bread that her family requests 90% of the time. Crusty on the outside, moist and flavorful on the inside, this bread is sure to please!
Serving Ideas

Topped with butter and jam after lightly toasting? Yes please! It's also fantastic for sandwiches (simple or fancy!), or with a spread of pate, or a bowl of soup, the possibilities are endless!
Ingredients

Umbromated flour, water, sea salt, wild yeast
Storage

Best enjoyed within a few days, our breads should be stored on the counter (never in the refrigerator) in the windowed bag, with the cut side closely wrapped.
Ordering

Orders are generally fulfilled 2-4 days after your order is placed.

Returns

Unfortunately, our items are perishable and cannot be returned or exchanged. All items from our online store are sold on a non-returnable basis.

Ingredients Matter

Umbromated Flour

Sea Salt

Water

No preservatives

No additives

Every one of our ingredients is something you can pronounce.

Questions?

Need something else? Reach out to us at

sales@crumbandsponge.com

We will do our best to help!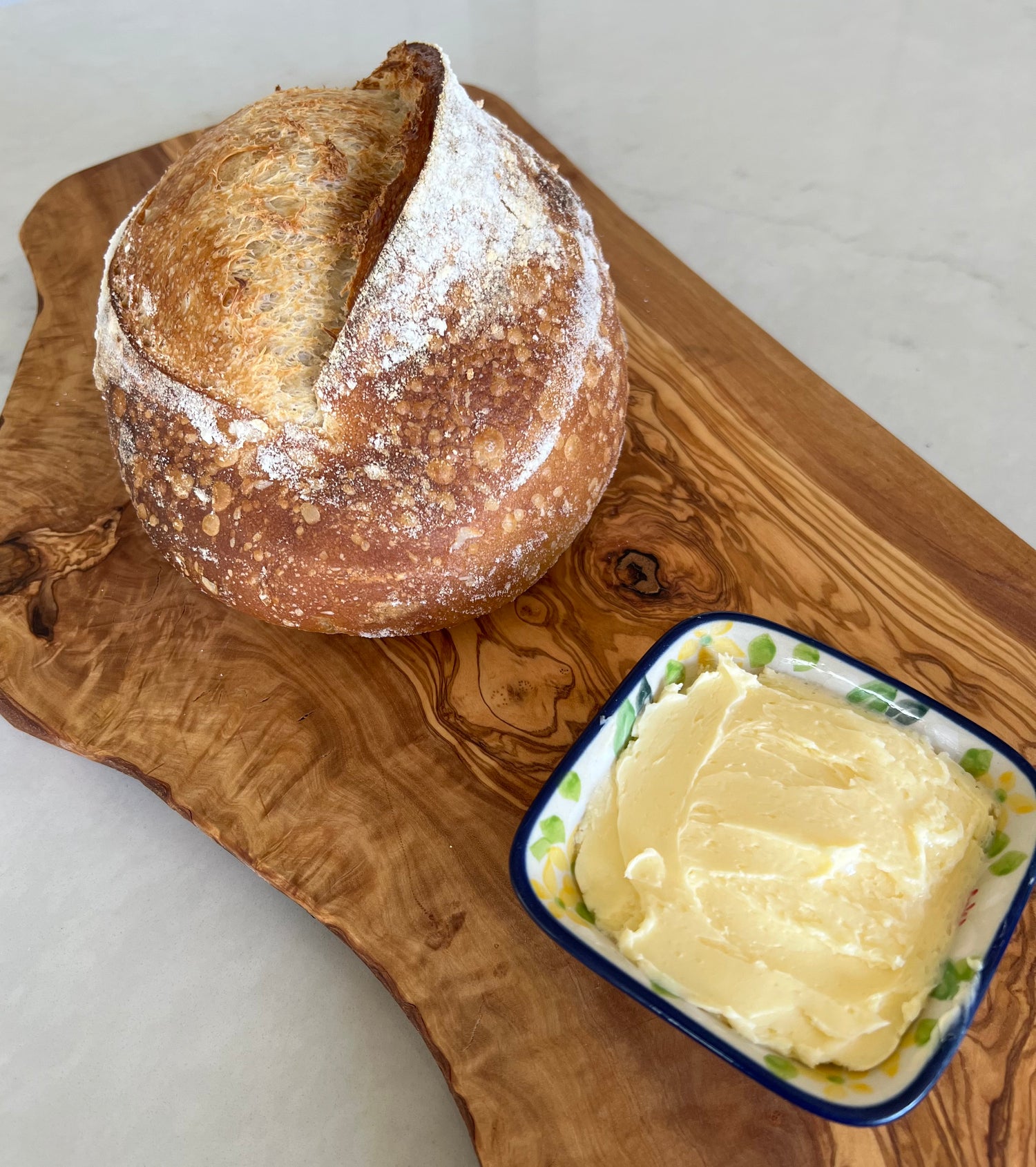 Bread and Butter
A classic pairing, there is a reason this has stood the test of time.
Looking for an upper arm workout or to burn some calories? Make your own butter by shaking heavy whipping cream until the fat separates, usually takes about 5-10 minutes. Our baker tells us this is fun activity to do as a family, trading off as one person tires.
Looking for something easier but still scrumptious? Grab some Kerrygold and a butter knife!
Shop now